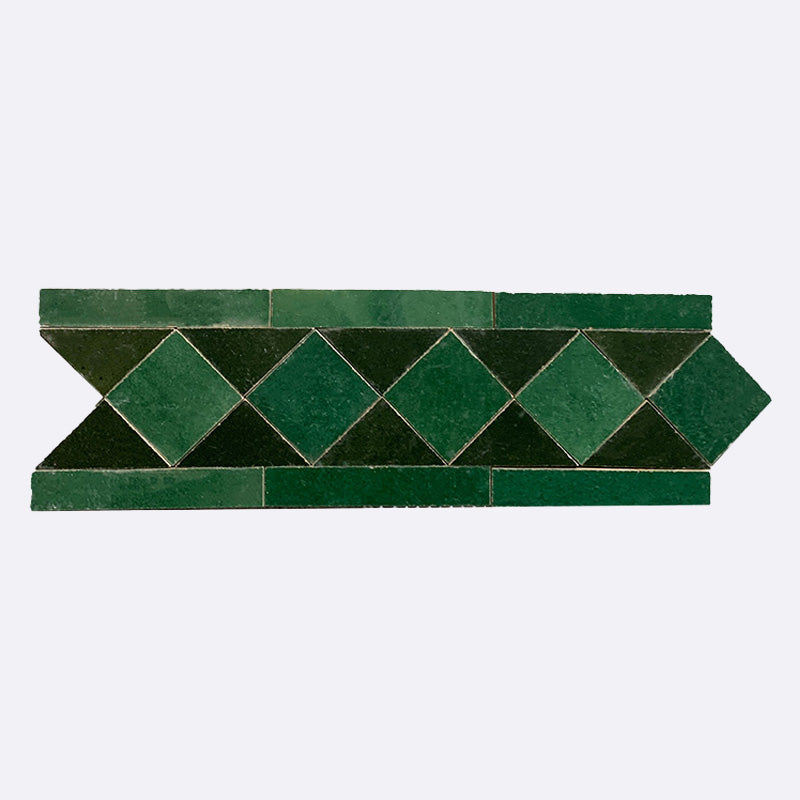 TILE
SPECIFICATIONS
& DETAILS
CONTEMPORARY CUT ZELLIGE

No matter how you spell it zellige, zelliege, or zelij it is beautiful tile. All our zellige tiles are made by hand, with clay from Fez. To see more about this rare handcrafted art form please watch our video. You will see noticeable variations in thickness, depth, color, shade, size and some pits and cracks in the glaze — all to be expected.

The handmade nature of zellige tiles is the key to their charm, imperfect uneven shapes allow the tiles appear more fluid than flat — corners and edges are not perfectly even. Another feature of note: it's impossible to get a batch of zellige tiles in the exact same hue. Know that your zellige tile will be more ombré or patchwork colored than solid. As the tile is placed in the kiln tiles placed closer to the fire will retain different color characteristics than those places further away from the fire.

We also sell an unglazed natural clay zellige tile that is not glossy. These tiles require special care when being used in an area where they may get wet or dirty. See notes on sealing instructions for these unglazed tiles.

These contemporary cut zellige tiles are machine cut and still have some uneven areas and are attached to a mesh backing. Each piece is set by hand on the mesh so nothing is perfectly even. You will want to "dry fit" the tiles in a flat area and align them so the gapping between panels is minimal. THERE WILL BE SOME GAPS. This is handmade tile will never be perfect which is what we think makes it perfect. After you are satisfied with how the tiles look you can then install them in mortar using the dry fit as a guide for your installer.

When grout is used that is a similar color to the tile the final look appears almost grout-less. If you choose to use a contrasting grout color you will notice grout lines of uneven widths.

Our new contemporary cuts are sold un-grouted with a mesh backing.

INSTALLATION

STEP ONE: Selection
Due to the noticeable color and shade variations, it is very important to blend the tiles from all boxes once they arrive and place them in their installation area to ensure you have the layout you want before installing. Do not install without blending tiles from all boxes. There are also color and size variation between batches that will be hard to match with an add on order, please keep this in mind when calculating your order, and be sure to purchase enough material. It is also unlikely that your sample will be a perfect match with your actual order. Industry standard suggests adding at least 15% overage due to tile cuts, potential breakage, or future repairs.

When prepping our contemporary cuts on mesh backing you will want to "dry fit" the panels on a flat surface prior to install. Some patterns may need to be rotated and some pieces may fit tighter next to some than other. Each tile is placed on the mesh by hand so imperfections do exist and the gaps between tiles and panels is not perfect.

Once installed properly and grouted, the above issues will bring you the textured Zellige look that is so treasured by the design world. Installing the tiles that show the imperfections described is the traditional look for Zellige installations. Any editing of these naturally occurring imperfections from your tile shipment will reduce the traditional appeal of your installation. If these imperfections do not fit your project's needs we recommend ordering more than 15% overage. This allows your contractor to hand select these imperfections from your order if you wish for a more uniform look.

STEP TWO: Preparation and Mortar

PREPARATION
As is standard in the tile industry, installation deems acceptance of materials. Do not install if you have any doubts about your zellige order. Contact us prior to install to discuss any concerns. Poor installation by a contractor or end-user negligence are not covered under warranty by Moroccan Mosaic & Tile House. Do not use tape (even blue tape) during product installation, or otherwise. We recommend using a contractor with experience installing genuine Moroccan zellige tile for best results.

WET AREA APPLICATION
When installing, make sure these specific waterproofing precautions are taken: A waterproof membrane is used under the tile and a water resistant, penetrating sealer (Miracle Sealant 511 Porous Plus) is used to seal the grouted areas and the tile surface of unglazed tile. For superior water repellency in steam showers, we recommend applying Miracle 511 Impregnator in addition to Miracle 511 Porous Plus.

MORTAR
Be sure to cover at least 95% of the tile back in mortar/adhesive to ensure the best bond when setting the tile. We recommend spacing the tiles as close together as possible. Spacers are not necessary unless you desire a more consistent grout line size.

STEP THREE FOR UNGLAZED ZELLIGE (GLAZED ZELLIGE MAY SKIP THIS STEP):
We recommend Miracle 511 Porous Plus for an invisible sealant finish. In the case of unglazed Zellige, due to its extremely porous nature, unglazed Zellige must be sealed on all applications before and after grouting in order to be cleaned and to avoid staining. Stains on unglazed Zellige may be impossible to remove if unsealed.

STEP FOUR: GROUTING
We recommend unsanded grout for all Zellige installations other than pool and fountain water lines, to reduce the risk of grout haze and staining. Make sure to always follow the manufacturer's instructions. Letting the grout sit for even a short period of time can be problematic. Ultracolor Plus FA must be used for pool and fountain water line installations.

We do not generally recommend using a contrasting grout color with Zellige, as it will highlight the thin hairline cracks/crazing found on the tiles, and fill in any pits, and/or chips. If you choose to use a contrasting grout (i.e. white grout with black tile) please order 15-20% overage in order to cherry-pick the tile of the imperfections that are standard to Zellige. If you desire a contrasting grout color we highly recommend applying Miracle 511 Porous Plus for an invisible sealant finish prior to grouting in order to minimize the possibility of the contrasting grout curing in the hairline cracks, pits, and/or chips.

Grout color selection is always up to our client. If you are using a custom mosaic multicolored design or a combination of tile colors, we recommend that you match your grout to the color in your tile that you would most like to accentuate.

In the case that your installation is being grouted with a contrasting grout color vs. a matching one, you should also seal all glazed tiles before grouting because many tiles may have crazing without it being visible to the eye and would only come out with the grouting of the tiles as the invisible crazing absorbs the dye from the contrasting grout. In addition, when using a contrasting grout color with one of our contemporary cuts with mesh backing YOU WILL NOTICE UNEVEN GAPS. If you do not wish to see the gaps between the individual panels we recommend using a similar grout color to the tile.

Please make sure to follow the grout application and cleanup instructions to avoid the risk of staining/grout haze and to allow for easy
application and cleanability. Read all installation instructions thoroughly before use. Using consistent application procedures will produce consistent results.

Use a "clean as you go" approach to spreading and washing the grout, to ensure that cleaning begins before the grout skins over and dries on the tile surface. Grout small areas at a time, so that cleaning can begin before the grout skins over and dries on the tile surface. Change your water bucket frequently to prevent the development of a haze on the tile surface. As you work in small areas, gently remove excess grout immediately with a clean, damp microfiber cloth.


STEP FIVE: SEALING
We recommend Miracle 511 Porous Plus for an invisible sealant finish.

GLAZED ZELLIGE
For glazed Zellige, we recommend sealing the grout as the final step of installation to prevent stains on the grout. We like when the grout color is a shade similar to the glaze color to give a more uniform look. If you desire the grout to stand out more you may choose a grout that is a contrasting color.

In wet areas of glazed Zellige (backsplashes, showers, steam showers, pool and fountain water lines) grouted areas, including grouted pits and chips and areas of visible crazing must be sealed as the final step of installation. Sealant will not penetrate the glazed tile surface but it will penetrate and protect grouted areas, pits and chips and areas of crazing or etching that reaches the clay body.

Please follow all sealant instructions and maintenance recommendations for best results. IMPORTANT: if water and oil do not bead up on the surface of your tiles and/or grouted areas then the sealant was not applied properly.

WHERE CAN I USE ZELLIGE

Zellige can be installed on any surface indoor or outdoor you want to look beautiful. Walls, floors, ceilings, fireplaces, backsplashes, tables, planters, the list goes on. Zellige can also be installed on curved surfaces with a careful installation, give us a call to discuss so we can suggest the best way to get your desired look. Glazed Zellige can be installed on pool and fountain water lines with application of a waterproofing, penetrating sealant, in non-freeze thaw locations. Zellige tiles cannot be placed where heat is directed onto them (inside fireplaces, pizza ovens and oven venting).

Unglazed Zellige is not suitable for pool and fountain water lines. Unglazed zelliege should always be sealed to create a protected surface.

EXTERIOR INSTALLATIONS
IMPORTANT: Zellige tiles are not freeze thaw rated. Therefore we do not recommend and cannot warrant installing these outdoors in areas that regularly experience freezing temperatures. Installations in freeze/thaw locations require flashing the top of vertical installations to prevent
moisture from dripping behind the installation and installing the tiles above grade for horizontal installations. In addition, the installation must be completely sealed and maintained with a water resistant sealant like Miracle 511 Porous Plus.

With application of Miracle Sealant, these tiles can have resistance to freeze/thaw issues. However, oftentimes there are installation failures because the specific installation guidelines and sealant maintenance is not properly followed. But if completed and maintained correctly (see manufacturer's instructions) then you can proceed WITH CAUTION.
If you can comply with all of the above and understand that without the sealant your install won't hold up—then it's up to you to proceed with installing this tile in a freeze/thaw location. We recommend your contractor reach out to both Mapei tech support for installation support and Miracle Sealant tech support on the waterproofing of the tiles.

MAINTENANCE

Over time, a natural patina will occur on floors as they are maintained and naturally wear. This inherent traffic pattern is a highlight of using Zellige and should be both anticipated and favored.

YEARLY MAINTENANCE:
Topical sealants on unglazed Zellige will require periodic stripping and re-application of sealant. Single coat reapplication of the penetrating sealant is required once a year in shower applications due to the continuous exposure to water. For glazed Zellige, this includes all grouted areas. For unglazed Zellige, this includes the tile surface and all grouted areas. Reapplication is needed more often if installation is in a steam shower or pool/fountain water line. For superior water repellency in steam showers we recommend applying Miracle 511 Impregnator sealant in addition to 511 Porous Plus.

GENERAL MAINTENANCE/CLEANING
Zellige tiles require minimal maintenance. Mild, pH neutral soaps should be sufficient for most cleaning—test before general use. Clean using soft materials. Avoid harsh chemicals and acidic or alkaline cleaning products. Immediately clean up spills—do not allow liquids to sit on the tile surface. Excess liquid and moisture can stain, pit and crack tile—even when properly sealed. Vacuum or sweep regularly—abrasive dirt and materials can scratch the surface. Non-slip mats or area rugs should be placed inside and outside entrance ways to remove abrasive materials that can scratch and dirty the tile surface.

Shower installations should be squeegeed after each use to prevent hard water stains, soap scum and mildew. Grout lines can be cleaned with warm water and a soft bristled cleaning brush.

To remove mildew, mold or soap scum on unglazed Zellige, we recommend Miracle Sealants Liquid Poultice. Oil stains are difficult to remove from unglazed Zellige. They will require the use of a poultice, like Miracle Sealants Poultice Plus to draw out the stain.
Translation missing: en.general.search.loading