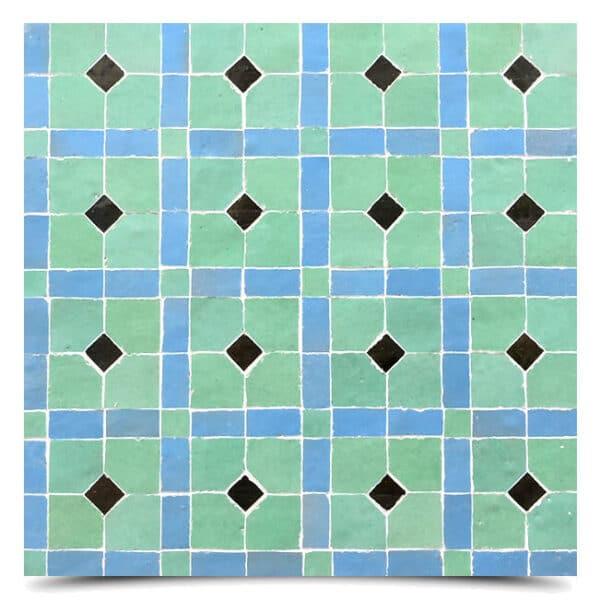 TILE
SPECIFICATIONS
& DETAILS
MAINTENANCE

Over time, a natural patina will occur on floors as they are maintained and naturally wear. This inherent traffic pattern is a highlight of using Zellige and should be both anticipated and favored.

YEARLY MAINTENANCE:
Topical sealants on unglazed Zellige will require periodic stripping and re-application of sealant. Single coat reapplication of the penetrating sealant is required once a year in shower applications due to the continuous exposure to water. For glazed Zellige, this includes all grouted areas. For unglazed Zellige, this includes the tile surface and all grouted areas. Reapplication is needed more often if installation is in a steam shower or pool/fountain water line. For superior water repellency in steam showers we recommend applying Miracle 511 Impregnator sealant in addition to 511 Porous Plus.


GENERAL MAINTENANCE/CLEANING
Zellige tiles require minimal maintenance. Mild, pH neutral soaps should be sufficient for most cleaning—test before general use. Clean using soft materials. Avoid harsh chemicals and acidic or alkaline cleaning products. Immediately clean up spills—do not allow liquids to sit on the tile surface. Excess liquid and moisture can stain, pit and crack tile—even when properly sealed. Vacuum or sweep regularly—abrasive dirt and materials can scratch the surface. Non-slip mats or area rugs should be placed inside and outside entrance ways to remove abrasive materials that can scratch and dirty the tile surface.

Shower installations should be squeegeed after each use to prevent hard water stains, soap scum and mildew. Grout lines can be cleaned with warm water and a soft bristled cleaning brush.

To remove mildew, mold or soap scum on unglazed Zellige, we recommend Miracle Sealants Liquid Poultice. Oil stains are difficult to remove from unglazed Zellige. They will require the use of a poultice, like Miracle Sealants Poultice Plus to draw out the stain.